You're Outta There!
Lessons From My First Job.
Summer is upon us. The ballfields are filled with baseball players and softball players not only learning sports lessons, but life lessons as well.  This got me thinking about my first job.  When I was younger, 14 to be exact, I started my first job. I was an umpire for girls' fast pitch softball. This opportunity provided me many lessons I still use today.
Now I realize this may not seem like much, but by 15 I was working weekend tournaments bringing home over $300 cash. (That was like hitting the lottery for a 15-year-old boy). Basically I was making between $15 – $20 an hour while I was on the field.
Can you remember your first job?  Can you think back to any lessons you were able to take away from that job?
I remember feeling that for the first time, I was an "equal" to the adults (with years of experience) that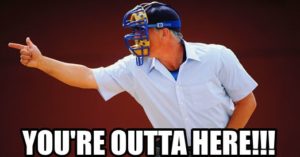 worked the game with me.  I went on to be chosen to umpire a Nationals Tournament by age 16, an accomplishment most fast pitch umpires never receive, as well as serve as the Umpire in Chief (UIC), for the first ever 8-year-old Indiana Amateur Softball Association Junior Olympic Ragball State Tournament. The following years I served as UIC for 1 league and 2 major tournaments.
All that recognition and achievement didn't happen without struggles and lessons. In fact, it happened ONLY through the MANY struggles and lessons. (Ask me sometime about missing the steal call at 2nd base during a league game. Boy that was embarrassing.)
The lessons I was able to gleen from my first job, you will be able to apply to your business/ career.  Take a look and think about how this applies to your situation. 
Lesson #1: The Importance of the Pregame
Pregame with your partner, team or customer; talk about your goals and opportunities
Have a plan; who will cover what in specific situations, what can they expect from you
Set the tone of the whole interaction now!
Lesson #2: Dress the Part and First Impressions Count
It may be "old-fashioned" but looks do matter in some (most) cases. Get out that archaic tool known as an iron and put a crease in your pants and in your shirt. This shows the coaches and teams (your customers) you are a professional and deserve respect.
Brush and Polish; your teeth, your hair, your shoes. The little details matter. Two minutes of extra effort will garner volumes of extra respect. (What does this mean for you: think follow up, knowing extra info about the person you are meeting with, etc.)
Wear all necessary protective equipment. Be prepared. For anything. Even if you don't end up needing it, it will allow you to be more confident.
Lesson #3: Have a Mentor
As I shared in my story, I was fortunate to have my dad as my mentor.
He knew many of the coaches, many of the tournament directors and other umpires. He had the network. A good mentor will help you build your network.
He had experience. He had seen many different situations and handled many difficult calls before. His perspective was invaluable to my interpretation and experience.
His insights and advice helped me grow as a "professional". He was there to celebrate my successes with me. He was there, also, to criticize and question many of my decisions.
Throughout our lives we are blessed by many opportunities to learn and shape us into the people we are today.  Please share some of the lessons you gained from early work or volunteer experience were.  I'd be interested to see what you reflect on.