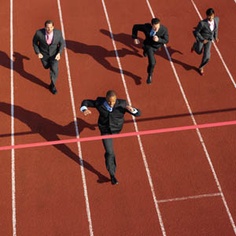 Regardless of your position or status, there are actions you can take to move  your company, department or even your own life forward.  Here are seven actions to take to be sure you finish 2013 on a high momentum :
1.  Solve at least one communication issue. Communication issues abound in the business world and are often overlooked, ignored or mismanaged.  Solve one.  It might be an in-house issue, with a vendor or with customers.  Find one and solve it.
2.  Finish one incomplete project that you have been intending to get around to.  To often we put off the unimportant projects and say we will get it done when time allows.  But these projects are still on our mind.  They take up mental energy.  This might be servicing a piece of equipment, planning the company Christmas party or cleaning off the stack of papers on your desk.  Get it done to free up that extra mental energy.
3.  Remove at least one useless item from your budget.  Now is the time to trim the fat. Go through every line in your budget to find new money.  Maybe it's canceling some subscription, getting rid of an unneeded monthly service or even paying an inefficient employee to quit (www.inc.com/budget.html)
4.  Find an accountability partner.  This might be a team member, joining a mastermind group or hiring your own coach.  Having somebody to be accountable to and serve as a sounding board will create amazing new results in your business.  This accountability partner will help to keep you focused on the remaining 6 months.
5.  Partner up.  It's a great idea to partner up with other small business owners, especially if your products or services are compatible. That might mean a joint marketing effort or offering a promotion in conjunction with another brand.  Be creative.  There are lots of ways of partnering up.
6.  Invest in your education. Learning something new for the sake of your own development or investing in professional training that will help grow your business is always a wise investment, but statistically it helps the entire company begin to see things differently (when invested wisely.)  Now is the time to learn some new skill or innovation.
7.  Inspire at least one of your peers.  Inspiring others isn't easy.  The success rate of those who attempt to inspire is incredibly low when the measurement of success is based on the percentage inspired as opposed to the actual number inspired. The best part of inspiring others is to have interest in not only what you do, but to also, recognize your peers and have an opportunity to see them grow and change as well.  Amazingly inspiring others will have a greater impact on your life, than the other person's, not matter how much they try to tell you otherwise.