One Thing You Can Do To Be More Confident
Are you not as confident as you wish you were?  Me neither.  In fact, I have learned as a coach, that most business owners lack confidence. 
I know that may come as a surprise to many of you.  Now I've never been very shy, but insecure, you bet. I didn't have a lot of self-worth and it showed. Not only that, it hurt me both in my professional and personal life.
People are attracted to those that are walk tall and believe in themselves. Who would you hire if you had two candidates for a job? The one that convinces you they can do what you need done, or the one that shyly hides behind their resume and "thinks" they may be qualified. You'd pick the confident one, as would I. That's why it is so important to work on confidence.
I have a simple little hack for you that can turn you from a hesitant and apprehensive person into someone who's collected, composed and at ease in any situation. Are you ready? Here it is:
Fake it Till You Make It
It's not a joke. It's a life hack that works over and over again. Think about confident people in your life.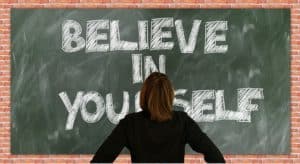 How do they act? How do they walk and talk? Pay attention to the confident people around you and study them.
Start acting more confident, especially when you're not feeling it. Walk up to a person, shake their hand and look them straight in the eye as you introduce yourself.  In other words, start faking it when you're not feeling particularly sure of yourself.
Taking confident actions helps build confidence.  Taking a risk and taking action despite your fear of failure will help you build the necessary belief in yourself to build more confidence.
Build the Confidence Habit
Watch your confident friends, acquaintances, colleagues, or even your boss and then emulate what they do that makes them seem confident. Get in the habit of acting confident, even if you don't feel it. If you catch yourself slouching, casting your eyes down or thinking that you aren't good enough, stop in your tracks and start acting confident in front of others and yourself.
Before you know it something interesting happens. You're doing things you never thought you could, you're striking up conversations, you're asking to be put on big projects and things are going well. Each little success will build up your confidence and before you know it you don't have to fake it anymore. You are becoming a more and more confident person.
Here's your assignment for the next few days:
Act like a confident person at least once per day. It helps to think about your day ahead of time and the types of situations you may find yourself in. Go over them in your head and visualize how "confident you" would react. This will help you play your part when the time comes. Over time you'll be able to do this more spontaneously. Keep working on it and start acting confident more often.
This post is part of our 1 thing series. Watch for more post that show up as part of this series.  Please post your comments about whether you completed the coaching assignment or not and what you learned.
Sean McCarthy is a Certified Business Coach and the Founder of Loveland, CO -based Colorado Coaching Company.  Coaching can take place in person, over the phone or online. If you need help growing your business, shifting your mindset, call or email Sean at (970) 541-1099 or [email protected] to schedule your initial strategy session.