It was widely believed that no human being could run the mile in less than four minutes. The best time was 4 minutes, 1.4 seconds, set in 1945. The record stood strong for several years, and both medical exerts and athletes were unanimous in the view that the four minute barrier could not be broken. "Not possible", they said. In fact, it was believed that the 4 minute mile was physically impossible, that it could not be beaten without causing significant physical damage to the athlete's body. And this was commonly accepted as fact.
Then, on 6th May 1954, Roger Bannister did the impossible. At a windy athletic meet in London, England, Roger ran the mile in 3 minutes 59.4 seconds, shattering the four minute barrier. John Landy – Roger's rival and an accomplished runner – had until then a personal best time of 4 minutes 1.5 seconds. In fact, after running a mile in under 4 minutes and 2 seconds three times, John said that the four minute barrier was "like a wall". Amazingly 56 days after Bannister conquered the four-minute-mile barrier, John Landy, broke Bannister's record and ran the mile in 3 minutes 57.9 seconds.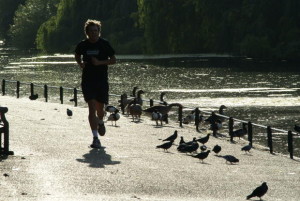 So what happened? Did the human body suddenly get stronger? Was it new technology improving running shoes? Did Bannister have a special training method? None of these really. The reality was… The four minute mile was a psychological barrier more than anything else!
To further prove the point, by the end of 1957, sixteen other runners had run the mile in less than four minutes. What Roger did was prove that the barrier or "wall" was not a physiological one, It was just a mental one. What Roger Bannister did on that windy day was not merely set a new world record; oh no, it was much more historically important than that. He demonstrated that overcoming mental barriers is the key to delivering breakthrough and historical personal performances–performances that affect more than just ourselves. Through overcoming our own limitations we empower others toward success.
The power of your mind is incredible. Your "limiting beliefs" or "mental barriers" are profoundly more powerful than physical or accepted facts. You see the mind cannot distinguish between imagined and real. We all have our beliefs about what we can achieve – and what we can't. And our success is limited by those barriers. Even our effort is often restricted by those barriers. We don't try – because we see those barriers. To our mind it is like driving towards a road closed sign. It already is making other plans, devising another route.
What are you thinking about? What is holding you back? Change your thinking to change your results. What mindsets do you have that are getting in your way? What self limiting beliefs have you accepted as fact, physically impossible?
What is your "Four Minute Mile Barrier"?
Opportunity! Probe the limiting beliefs, mental barriers (like the 4 minute mile), or negative attitudes that you are keeping in your mind. Awareness is the first step to shattering that barrier.
· Write them down.
· Change the "I can't" to "I will".
· Stop thinking impossibilities and Start believing in possibilities
· Decide to break through your mental barriers.
The choice is yours. Make the decision and take the action!